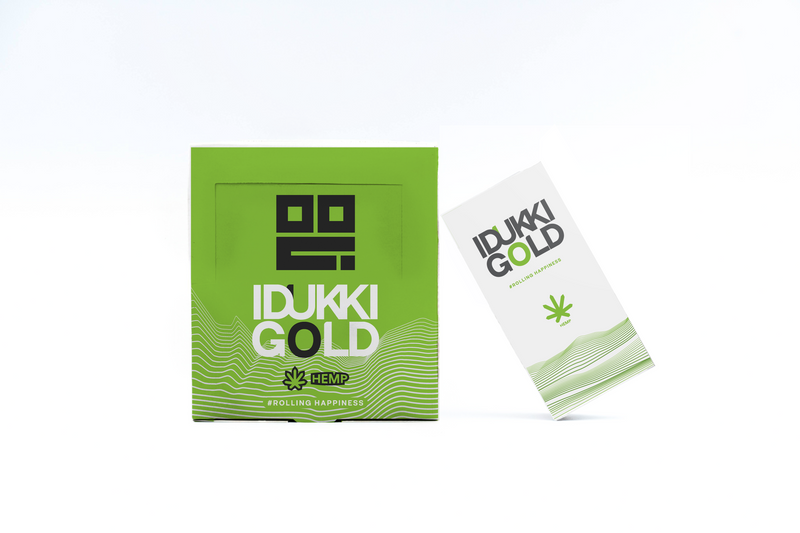 Idukki Gold OG Rolling Paper
In stock
rolling paper
Idukki Gold
Booklet - 32 Organic OG Leaves+ 32 tips and Crushing Tray
14 booklets/box
Elevate your smoking experience to new heights with Idukki Gold OG King Size Rolling Papers. Meticulously crafted from the finest OG fibers, these rolling papers redefine luxury in the world of smoking accessories. Each sheet embodies a perfect blend of quality and craftsmanship, ensuring a smooth and even burn every time.

Indulge in the purity of natural OG , carefully selected and skillfully transformed into these king-size rolling papers. The eco-friendly and sustainable nature of OG adds an extra layer of appeal to your smoking ritual. As you ignite your chosen blend, you'll appreciate the clean taste and minimal ash residue, allowing the true flavors to shine through.

Idukki Gold OG King Size Rolling Papers aren't just a smoking accessory – they're a statement of sophistication. Whether you're enjoying a solitary moment or sharing the experience with friends, these papers enhance the entire process. The larger size provides ample space for your creative rolling techniques, while the impeccable construction ensures a seamless and enjoyable session.

Unveil a new standard of excellence in rolling papers with Idukki Gold OG King Size. Elevate your smoke, indulge in the artistry of OG , and savor every moment of your smoking journey. Discover a luxurious world where quality meets elegance, and let Idukki Gold be your choice for an exceptional smoking experience.
Returns Policy
Idukkigold.shop accepts returns on all un used products within seven days of the delivery date. A full refund for the purchase price will be issued when the item has been returned and approved for re stocking. Shipping and handling fees are non refundable and buyer is responsible for any return shipping fees incurred. Idukkigold.shop is not able to accept returns, exchange or offer full or partial refunds for products that have been used. Please inspect all items prior to use, once used they cannot be returned for any reason.
Shipping
Idukkigold.shop does not offer shipping to third parties as gifts or otherwise. We are only able to ship our product(s) to those who have purchased it and agreed to our terms and conditions.
For international orders idukkigold.shop does not guarantee that customs will not confiscate the products ordered by you. If in the unlikely event your package is we will not refund any payments to you, and a reshipment of your order will not be possible. You are solely responsible for knowing the import restrictions on any of the products that you order and that may apply in your country of delivery. .